Growing up in my mother's home, children dared not say the word "lie." Mom insisted that this word did not honor those older and seasoned.
So, out of respect for the years, many guru's have startup and ran a successful small business, I will not say they "lie," but must tell you they are incredible "storytellers."
Some small business owners are quick to mention that you can scale-up to six to seven figures in 30-days or less.
Unless you have an enormous amount of capital and a few investors, this isn't the truth.
The reason many small business startup owners fall for this Okie-Doke is that the experienced ones have mastered the art of persuasion.
They understand the psychology of their markets. These owners research in ways that help them grasp what triggers your emotions. I want to give you the raw deal–what really happens when you startup albeit part-time or full-time. No bull. I will not use psychology. or persuasion. But, will only give you the absolute truth.
Here are 7 Facts No One Tells You About Small Business Startup
Small business startup begins one way then changes a lot
Initially, you'll begin with a solid informal plan. Meaning, you may not have a formal business plan. I spent my final days in the classroom writing out some marketing strategies. Also, I included financial projections for nine months.
Presented both to my husband. Everything looked awesome on paper and in the bank. But, for every progression, the business required more alterations, adjustments, and money.
Your business model will shift from time to time because you don't fully understand the needs and wants of your market right away.
You'll begin to learn more about different fees for various tools needed to operate your small business. Of course, this changed our financial projections immensely.
Small business startup requires lots of writing
I cannot stress this enough. Writing is the core of your small business startup. You write roughly 60% out of the 80% of time spent on market research.
If you don't like writing, get ready to make yourself love it.
Writing as a business owner includes email marketing, sales pages, web copy, ad copy, sales scripts, Facebook ads, blogs, books, ebooks, and the list goes on.
Because I'm a former English teacher turned small business owner and entrepreneur, writing comes naturally. I'm totally okay with writing thousands of words.
Small business startup means self-care sacrifices
Fellas no disrespect, but I need to speak to my women colleagues for a minute. My dearest sisters, please understand this.
You will not spend time on your hair, manicures or pedicures. Your value for shopping changes in major ways. If you paid $65 to $85 at your salon and $55 for your nails and toes, get ready to find other ways for maintenance.
I remember sacrificing it all by cutting these expenses by less than half of the above amounts. The local beauty school, where students need experience and practice became my go-to for hair and nails.
Almost every penny goes back into the business. You capitalize on the business with every cent.
Sign up with our community of subscribers! Get tips and tools for your writing, business, and inspiration by filling out the form in the right column.
Your startup will have MANY days of mental confusion
Oh, what a tangled web we weave when at first we practice from those who deceive. Your brain will have sooo many hiccups in one day. (I'm being nice with this word).
A small business startup is one enormous emotional and mental roller coasters. Trust me. I am not alone with these feelings. Some days you feel up and like, YES! Other days you're like what in the bleep is going on!
Derek Halpern's "A Day In The Life As An Entrepreneur" graphic shows the exact thoughts in the mind of a small business owner.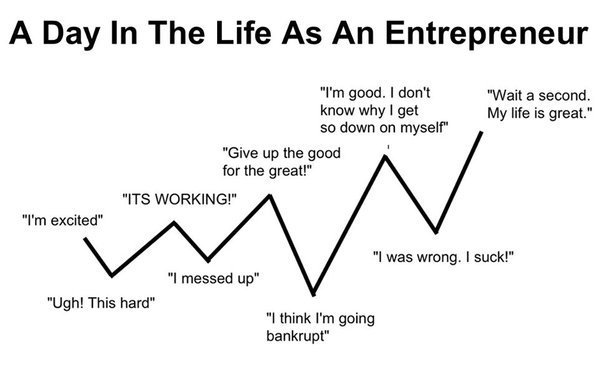 The outfits you wear most days
Get ready for all of your cute and nights out on the towns outfits to start collecting dust in your closet. I wear tanks, t-shirts, leggings, and sweats most days.
You'll only dress up professional meetings, speaking engagements, date nights and dinners with your besties.
If you buy something, it'll end up with the rest of your other outfits. Real talk!
Early mornings and long days
When your mindset shifts to as a small business owner, you will find it hard to shut off. The business will be on your mind every waking second. These rushing thoughts will have you wake all hours of the morning and stay glued to your computer and books all day.
During my first year, my iMac, MacBook, iPad, and iPhone became my "other husbands." I laugh now because my husband told me when to shut-off everything to sleep. The only evenings I truly sacrificed time away from my devices was during date nights with hubby.
Family and friends quality time is not the same
You may lose close relationships, but rest assure new ones will form with incredible people. Sadly, many of your friends and even family will not understand your new business efforts. Their mindsets are not as yours.
Some of these losses and changes will disappoint and sting your heart a little. Remember you're building a business from scratch and it takes up the majority of your time. This doesn't mean to totally ignore them. Rather, try to find or schedule a time to reach out to those you love.
Family and the right friends are sometimes needed so you can be "you" and take off the masks per se.
Conclusion
Overall, try not to get discouraged as you build and grow your small business startup. If anything, you'll attract like-minded people towards your circle.
These outstanding small business owners can offer the checks and balances needed to get you through the toughest times.
I have met incredible small business owners. And, they continue to be transparent and honest about every roller coaster ride. Their business advice and coaching are impeccable. Plus, these besties tell me all the facts about small business startup.
Please be sure to embrace the facts your new friends in small business will tell you about startup.
Leave a comment! I'd love to hear from you. I read and respond to my community.
Sign up with our community of subscribers! Get tips and tools for your writing, business, and inspiration by filling out the form in the right column.