90 days. 100,000+ words. 11,000 new page views. 850 new weekly views. Higher search engine rankings. What more can one ask for during a 90-day writing challenge?
The journey has been long, trying and rewarding.
I'm Jacqueline, and as of today, I've accomplished an incredible milestone. This post marks my final, 90th day for completion of the 90-day writing challenge.
You should know that this writing challenge post also ranks page one in Google after learning the right strategies and tools.
My hopes are to help some of you with everything I'm about to reveal.
This blog will cover:
Before I get into the process, please allow me to show honor to someone whose inspiration now means the world more than ever.
90-Day Writing Challenge Special Thanks
"Always. Always say thank you to those who've helped you along the way. Never bite or cut off the hand that feeds you," says mom and dad.
With this in mind, I'm grateful for the teachings of Miles Beckler and his solid advice for starting and completing a 90-Day Writing Challenge.
I had the pleasure of meeting Miles Beckler virtually on YouTube. This particular day I typed in YouTube dot com to begin searching for a few songs to pump my writing flow.
I always listen to music while writing.
And, a video entitled "Keyword Research with Google's Keyword Planner," by Miles Beckler leaped at me.
Although keyword research is one of my most used strategies, I didn't plan on using YouTube to further my understanding of it.
Anyways, Mr. Miles-to-the-Beckler ignited my research adrenaline, totally shifted my writing plans, and off I went to watch his videos on content marketing techniques and tools, SEO, Keyword Research, and much more.
Don't believe me just go to his Youtube page for yourself.
Make sure you're ready mentally and definitely have another note-taking section on your computer or separate notebook for all of the "How To's" and content marketing knowledge you'll receive.
Trust me.
His videos will pop out to you. His branding and graphic colors: blues, reds, and greens all grab your attention.
Plus, the headlines he writes are incredible and outstanding.
Do you remember how the channel "LifeTime" keeps you watching movie after movie for hours on a Saturday or Sunday?
Miles Beckler's held my interest for the entire day and a few days after.
And, will do the same for you.
Miles Beckler 90-Day Writing Challenge
I landed on one video where he's teaching and conducting research on the traffic difference between a 30-day writing challenge, 60-day writing challenge, and 90-day writing challenge.
During this video, he talks about setting up yourself as an expert in your industry, and one of many ways to tackle this is by doing what I call the Miles Beckler's 90-day challenge.
Now, there are various ways to handle this challenge.
You can write seven days straight or five days with two days off. The latter worked in my favor more than the former.
My 90-day writing challenge ran from February 22 through June 27th minus Saturday's and Sunday's.
Prior to this, I wrote blogs every Monday and Thursday. This is the standard today.
You no longer need to write a blog post every day to rank high in search engines for traffic.
Unless, of course, you're committing to a blog or writing challenge, the standard changes. You'll end up writing more per week.
Is a 90-Day Writing Challenge Possible?
You must know yourself and how many hours you can work per day.
Your research and writing rhythm plays an essential role in this and will tell how much you can endure day-to-day.
So, yes, pacing yourself means everything. The last thing you want during the challenge is to experience burn-out.
At first, you don't think finishing a challenge is possible until it's done.
I didn't use prompts, nor cheerleaders or an accountability partner.
My family and friends noticed my "silence" throughout the 90-day writing challenge.
However, they didn't fully understand what this meant for my writing career, as a content strategist and business owner.
They grasp now how much completing this writing challenge meant to me. So, if anything, the applauding and pats on the back came later.
On another note, almost every other expert says to write good content, books and provide value.
Oh, and don't forget it has to be full of value. What does giving value mean? Am I the only person who asked this question?
I wasn't sure what that exactly meant. Those are blanket statements to me—more like generalizations, or gray areas.
But, Miles Beckler doesn't just make these "gray area" statements and leave you off to go fish for their meanings.
His ability to break down how to find your target markets and niche, what your content should include for your niche and how to get the traffic your way with real examples made it very possible to start and complete my 90-day writing challenge.
Check out one of his videos to see for yourself!
The 90-Day Writing Challenge: Two Biggest Lessons
Lesson #1
To be blunt, you only need a little writing experience.
I'm not suggesting that you should have already mastered writing 1000 words per day.
The challenge will get you to this word count and beyond little by little.
Also, internet research experience will be a plus in the long run.
Even after viewing Miles Beckler's videos, I'll admit to continuing to write my posts based on what I thought my market wants–not on what the market wants.
Big mistake. All of your content, books, blogs, and articles should align with what your market wants first and needs.
So, are you writing to market? Yes.
This doesn't mean that your wants are not included. When I say to align your wants with their's here's what I mean.
Everyone seeks to survive, they want money and to enjoy the luxuries of life, right?
Here are a few screenshots of what a search looks like using Google and Keyword Planner.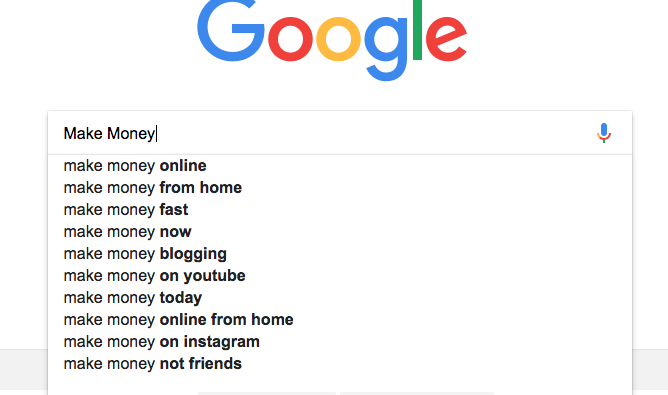 Notice here the keyword "make money" and various keyword phrases.

When I selected make money fast, it shows over 1.6 billion results and the famous "the penny hoarder dot com" has an ad running.
Her site gets thousands of views and traffic daily because she gives solutions to helping people making money and money savings tips.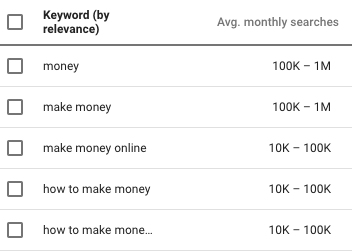 I searched Google Keyword Planner with one keyword and two keyword phrases: Make Money, Money and Make Money Online.
It shows the average searches per month and keyword relevance.
Even better is that it gives you tons more keywords and phrases your audience and market uses for searching.
This. Is. What. People. Want.
Talking about money used to be completely out of my comfort zone.
Perhaps some topics are out of your comfort zone.
In my case, I choose to write a few blogs that gave more specifics about starting a business to make money with $100 or less, and how to make $10,000 in less than 60 days.
I took my experience and personal wants and aligned it with my market's wants and experiences after research.
My point is this.
Research first the things your market wants, find the outcomes that resonate with you and write content aligned with your findings.
Lesson #2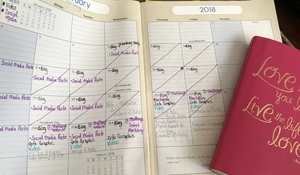 I sort of began with a content calendar.
The picture here shows everything but what content or topics to cover.
So, how did I write content for the first 20 something days?
I wrote according to what I thought my market should have.
Feeling excited during the time of writing each one, too. And, I did see some traffic but not much.
Not having a content calendar affected my organization. It also caused me to spend longer hours writing because my topics switched two to three times.
Talk about stresses and writing anxiety triggers.
A content calendar is needed if you're writing content. You can find yourself confused and all over the place per se.
Content calendar's help you maintain organization. The fun part is that you can write your ideas as they come for each day.
You'll know what to research for daily and the topic. You will not feel overwhelmed. A content calendar centers you mentally.
Once I corrected this mistake, my writing time decreased to an hour and a half each day.
Prior to beginning the writing process, I spent a little over an hour conducting keyword and headline research.
I still use a content calendar and fill in the dates as ideas come to mind.
Believe me, these 90-Days created the best writing and research practice. It gets easier for you every day.
The 90-Day Writing Challenge: Outcomes
So, I needed to take this journey to actually learn what all of this means.
After my discovery, I want to share with you my takeaways and understandings to help you.
My outcomes are enough proof to show me this works and the same can for you!
The best part is your content will last for years and receive traffic after the fact. As of today, the post below has received over 6000 views.
Now, here's a trick I learned from this challenge.
Some of my outdated posts needed SEO improvement, more content, and links to other pages.
I took this post below, optimized it by using the right keywords and keyword phrases. Lastly, I changed its date.
After indexing in Google (Miles Beckler teaches this on his YouTube channel), and posting on my other platforms, the performance of this post is phenomenal.

In addition to this incredible amount of page views, here are some of the best outcomes for a 90-Day Word Challenge:
1. You'll learn the true value of SEO & Keywords
2. It disciplines you for writing over 1200 words per day.
3. You'll learn how to rank your site on the first pages of search engines.
4. More knowledge about your market and niche comes and their wants and needs get clearer for you
5. You will definitely form a new writing habit
6. You'll develop more muscle for marketing and content
7. Confidence and stamina levels get stronger
8. Traffic grows by 300 to 400 new visitors per day — that's approximately an increase of 9,000 visitors per month.
9. The more visitors you have it helps to grow your list. You collect more leads daily approximately eight or more.
10. You learn the importance of a content and social media marketing calendar. Even more, it keeps your consistently posting on social media.
11. Some days are tougher than others. But, once you're all in, you have to continue.
These 90 blog posts helped me see that writing +100K words is possible.
At this point, I plan to continue blogging twice per week. Of course, I'll continue to write daily.
I've formed a new habit. Think about doing the same to grow your list, traffic, and understanding of content marketing.
I guarantee you'll learn the power of:
1. Writing Headlines
2. Writing and telling your story
3. Writing and telling your why
4. Writing expert advice
5. Writing How-To's
6. Writing Listicles
7. Writing for the wants of your audience
Conclusion
Overall, a 90-Day's Writing Challenge enables you to help your market in new ways. Your content gets better than good. And, you'll see the value along the way.
Miles Becker, thank you so much for all of your valuable content. Now, I understand what it means to provide value and give it freely!
Will I start and complete another 90-Day writing challenge? Absolutely! Next time, I'll invite a few people to join the journey with me.
Having someone thats "been there" and "done that" helps with motivation, overwhelm and endurance.
Moreover, this person can ensure you remain on the road to over 90k words and keep up the discipline.
A 90-day writing challenge requires commitment and discipline. There are plenty of reasons to feel excited during the start of the writing challenge.
But, many days will make you feel tired and want to give up.