Can we agree that lack of love, money, and communication are the leading factors in destroying a relationship?
Writers find it easy to get caught up in the flow of writing their next chapters, blogs, or articles. Interestingly, once we're in a serious mode, where the ideas, character development, and the plot takes incredible turns, we can't break away from it.
As for the business side, market research, social media marketing, sales funnels, etc., all require lots of effort, work, and your undivided attention.
I'm using the words writer and business ownership interchangeably because they are one and the same. Published writers are in business ownership. Period. And, both can be hard for love relationships.
A life of writing and business ownership can consume the mind 24/7. I'm sure some partners may feel left out while you think sometimes he or she doesn't give enough understanding or support.
Initially, it becomes rocky because your relationship has entered an unfamiliar territory. It's shifting to new grounds and areas that are awakening. As a matter of fact, it's a fresh awakening specifically designed for your love to endure.
How A Love Story Develops
I remember it like yesterday. Here I am a high school English teacher taking huge steps towards administration.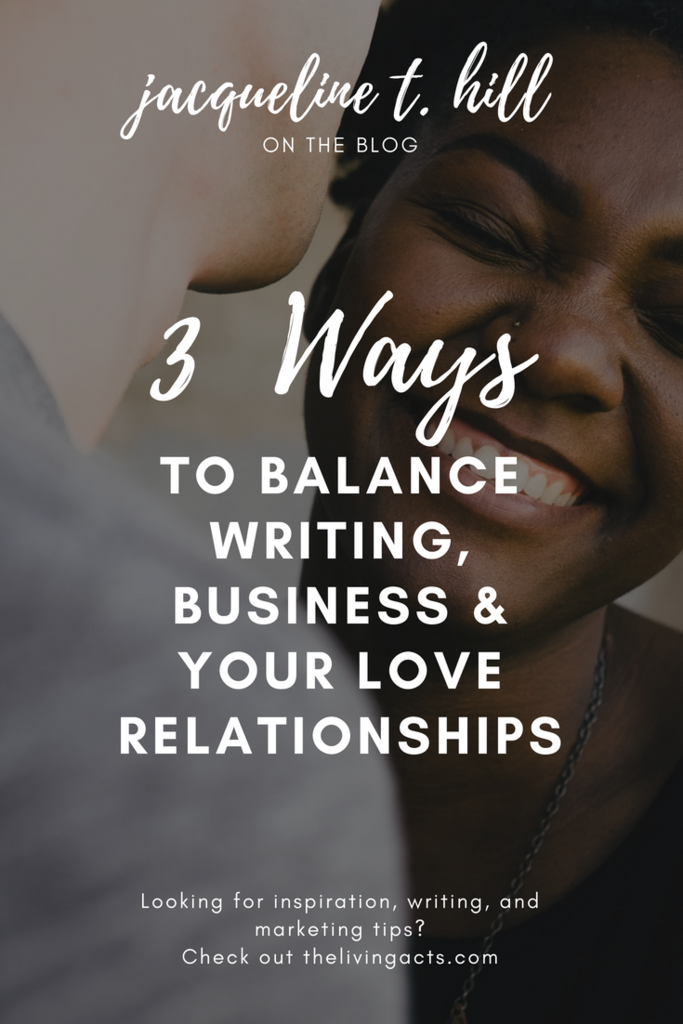 I'm at the height of my educational career with hopes of owning a school one day. Pouring my heart and soul into teaching and leadership.
Discovering myself in a new capacity after opening my heart and life to my therapist. She introduced me to the place where I met my husband: the dance floor. He was a DFW Swingout dance assistant instructor.
He's also a retired certified Health teacher and was the Head sports coach for the middle school's in the area. I'm sure you can see we had lots in common.
Before marriage, this man supported my every move while in the classroom and during my pursuit of administration.
The life of a teacher can be very demanding at times. We're in our classrooms right at dawn and leave after dust. Grading papers, especially for English teachers, can take up your entire weekend.
And, we have tons of paperwork. He stayed by my side and even helped me in the classroom.
Fast forward one year later, I sustained a foot injury. I was left with no choice but to resign. During this time, however, I worked hard on my part-time business. Soon afterward I shifted to a full-time writer and business consultant.
During all of this time, we made certain to include this one important step in our relationship and still do this in our marriage.
We started and continue to maintain our date nights. That's right. Every Thursday evening belongs to us. No cell phones. Family and friends wait until the next day. No one gets access to this space and time.
It belongs to us.
Now, he still supports my writing and business goals. My husband never interferes with my work. This has a lot to do with his temperament and personality.
He has friends who are business owners, so an in-depth understanding of how a startup works and what it requires is already branded in his mindset.
While at his part-time job, he calls to check in during the day. When he arrives home, we sit at the table for dinner and have a beautiful conversation for a while. Then, he proceeds to "the man cave," and I return to my workstation for writing or may just rest for the remainder of the evening.
This is my scenario. Your experience may be the same, better or different. If you're in a relationship or married, your partner may feel pushed aside or neglected. So, here are 3 ways to balance your business and your relationship:
1. Date Nights and Monthly Getaways.
If you haven't already put this into motion, you need to! Set aside a specific day of the week and one weekend per month.
You can also design a meeting area in the home with no distractions. For example, one business owner and his wife meet in a common area of their home.
When one is out running errands or at the office, the other sits in this particular room (until the other enters the house) to meet upon his or her return.
During this time, try to eliminate your cell phones. Certainly, have talks about life and each other: and what you miss greatly about him or her.
Go out to new restaurants. Attend concerts. Save money for getaways. Take long walks or drives somewhere.
For far too long, we neglect courtship because we get too comfortable in our relationships. If you have children, be sure to lock in a babysitter.
2. Love to Communicate.
I know it sounds cliche', but this one is serious. Send a text message and call throughout the day. After all, texting is the new communicator.
There's something about texting in the morning, whether you live together or not. Send the message prior to starting your busy day.
Say something simple like, "You were amazing this morning," or "Baby, I love you," or "I made it safely. Love you. Have a wonderful day."
Language can't get lost here, nor misunderstood. You're merely communicating "Thinking of you." You can also send this text throughout the day.
Be sure to call. Set patterns in your communication and try to stick to them. Talk everything through until there's a firm understanding and resolve. Include your partner in the business journey as well.
3. Don't Neglect Affection
Touch. Hugs. Kissing. Cuddling. Sex. They all play an important role in your relationship. Lack of these affections can come from either stress or sheer neglect.
According to medical research, "hugging someone you care about can ease stress and anxiety, lower blood pressure and even boost memory …"
One thing is true; business owners do need their memories. Affection also brings the two of you closer and secures the relationship.
Intentionally including the above elements in your relationship brings every aspect of your life into balance. Hence, you'll be ready and charged to accept any challenge in business. Remember, love begins at home then spreads abroad.
Let's Have The WriteTalk!
I'd love to hear from you! Leave me a comment below. Share your thoughts about this blog post with me? You can also sign-up for my VIP Newsletter above!