It's official. I'm a weirdo writer who needs my Jill Scott playlist on repeat for my writing flow.
The writing flow varies for many writers. Some writers require total silence to write. Others will sometimes listen to their favorite music artist to continue their flow.
Different strokes for different folks, right?
I understand both sides. There are moments when I want total silence or music. The times when I listen to music I find that's when I'm most creative and inspired.
Plus, I'm a musician at heart.
Playing the keys is like writing my best blogs, articles, short stories, and poems. I compare writing and listening to music to jazz improvisations.
According to Toni Morrison, it's good to have a "jazz-like style" to your writing. This means your writings demonstrate "no restraints."
Every musician holds nothing back when playing his or her instrument. When I listen to music and Jill Scott, I give every word and sentence full throttle with my best instruments: the heart, soul, and hands.
Jill Scott's Background & Some Music
Jill Scott, known as the poetess of soul and soul-stirring goddess, undoubtedly will take you into a writer's space of imagination, transparency, and authenticity.
She is a poet at heart whose words will pierce and lure you into love's creativity and realm's of writing climaxes. You can't help it. Trust me.
She makes writings ooze out of my mind and heart in ways that are unexplainable.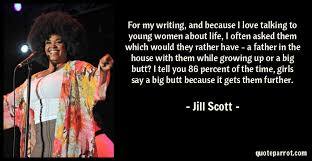 Two things Jill Scott and I sort of have in common.
She desired to be an English teacher. I'm a former English teacher turned writer and business owner.
We are northern natives who write from real places in life that others can connect with during tough and amazing moments.
Her best albums for listening to while I'm writing are Who Is Jill Scott? Words and Sounds Vol. 1, Beautifully Human – Words and Sounds, Vol 2, The Real Thing – Words and Sounds Vol. 3, Hidden Beach Presents: The Original Jill Scott, just to name a few.
How Jill Scott's Music Helps The Writing Flow
Just think for a minute.
Ever notice how music plays in the background in stores, gyms, coffee shops, malls, etc.? It's a company's way of relaxing you enough to make a purchase. They spend thousands of dollars to set the atmosphere for you.
And, what about how some artists write interludes and preludes as teasers to stick in your mind to produce a mood? This is the artist's way of hooking you more to their styles.
Both instances intentionally get you into a specific mindset and flow.
The first step to create my flow is to have one of my favorite beverages and water at hands reach. Secondly, to create my mood, I start to play Jill Scott's music from my playlist on iTunes.
I also keep my beats near me, especially if I decide to write from my local coffee shops or library. Now that I think of it, I prefer music more than silent days when writing.
At this point, I have her music to keep my focus. I'm not thinking about anything else at this time but finishing up a few chapters and or writing my articles.
Music helps with concentration and your ideas can flow smoothly. It will certainly get your creative juices going and adrenaline rushing. To listen to Jill Scott may be weird to many writers, so I guess this welcomes me to the world of weirdos.
It's all in her vocals, beats, and neo-soul chord progressions. I literally bop to every song, and every now and then I'll stop typing to snap my fingers and dap.
Jill Scott's Music Inspires Me
Inspiration is everywhere. And, if you're a critical thinker, this means you can see the multi-layers in simple and complex words or quotes.
There's one song of her's that takes me there–the place that's the all-time high for writing. The place where you're totally in the zone.
She has this one song you can keep on repeat all day. It's called, Comes To The Light. Here are some of the words that inspire me.
I can't hold it in forever
Eventually, I'd have to breathe
Done hid a lot behind the light, behind the wall
Now it's crushin' in on me
How did I let it get this far
How did I make this wrong turn
How do I change a thing I've done
Only one lesson learned
Comes to the light, comes the light, everything
Comes to the light, comes the light
As you can see, this is a song of self-reflection and awareness. I reflect a lot on this song. Most of my characters can relate to her lyrics and story. Even my music and poetry style mirrors some of her writings.
Reflections can also yield inspiration to write because you're expressing creatively from a real place. Jill Scott writes from authentic areas in her life that are both painful and happy.
What I really appreciate is her transparency in music. This inspires me to ensure my characters and non-fiction writings feel real to my readers.
For example, in her song Prepared, the lyrics are written to mirror her truth. Listen here.
I been reading my old journals
Checking to see where my head has been
And I been apologizing to some people
Some bridges I needed to mend
Sometimes I need to get through specific wrongs and pains, and my characters are in this same headspace. I play these songs and begin to think of how I or my characters can get through inner and outer conflicts.
Conclusion
Jill Scott writes with conviction and vulnerability. Her music lures me to write with conviction and vulnerability, too. Jill makes you confess through writing.
Whatever genre you will write from the soul, as I already do while listening to Jill Scott. Her songs are my music crush.
As long as she writes, I'll write. The more she writes. I'm certain to mirror the same.
Feel free to leave a comment! I read and respond to all of them. If you love to listen to music while writing, I'd love to hear more and who it is!