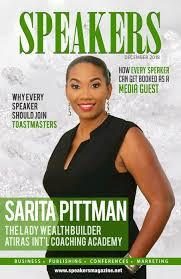 Sarita Pittman is seriously the bomb dot com! I remain humble after interviewing Sarita because of her brilliance.
I enjoy covering and writing feature stories on six and seven figure earners who are bursting with fire in their industries.
Meet Sarita Pittman. We engaged in an incredible conversation about her story, overcoming and how she became a 7-figure earner.
I originally wrote this feature for SpeakersMagazine. Please check out the outstanding work Pam Perry is doing for speakers and authors.
Lady wealth builder, Sarita Pitman knows how to start from the bottom to reach the top.
"Your weaknesses will slow you down, but I know faith helps you rise to the top. I'm not afraid of starting from the bottom," says the 37-year-old entrepreneur and life coach.
She savors every moment to keep rising and loves to bring more women along the way–honors being sane and a survivor after a few tumultuous experiences throughout the years.
One thing after another for Sarita Pittman
Pittman is not new to the scene of powerful success stories. She relates to many life challenges that require perseverance and faith to overcome, be successful, and attain wealth. Growing up she battled with eczema and psoriasis, which led to low self-esteem because she couldn't hide everything from these conditions. "I received validation from my family, but I didn't see this. I saw what was wrong with me," she adds.
By 19 years old, there were moments of depression from long-term relationships and painful life events. "It felt like one thing after another hitting my life from every direction," she says, "I didn't know how to get better. I'd stay depressed for weeks at a time."
The pressures of life began to accumulate causing her heart-rate to elevate. She was hospitalized and felt obstacles one after another on every side.
"I was in a long-term relationship that ended and had just rededicated my life to Christ. I couldn't win for anything, nor face anything or anyone. I didn't know how to get to better," she remarks.
In these moments, Pittman discovered her calling and used faith to overcome every obstacle and anxieties that can control one's life. She began to redefine and recreate herself with powerful examples from self-made millionaires in the family like her grandmother, mother, and father. "I saw my Grandmother at an early age acquire a massive amount of wealth. She was truly a self-made millionaire," she affectionately comments.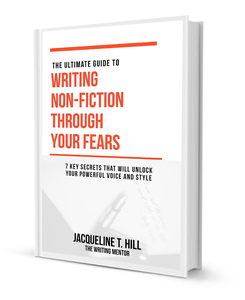 Towards the road to success for Sarita Pittman
Entrepreneurship is seen in three generations in Pittman's family. She follows the tradition and learns how to maintain it after seeing that her grandmother didn't master the art of this. "Along with my success path, I could see how and why my grandmother had the experiences she had. This is what inspires me to help women obtain and maintain wealth. If my experiences can help one, my job is done."
Eventually, Pittman began her entrepreneurial journey in the beauty and health industry as a Spa owner. She scaled four-figure bi-weekly earnings within a few months; eventually increasing to five-figures per month. Within a few years, Pittman started another business helping fortune companies in the areas of professional development, communication and work ethics, which became gains of seven-figures.
During these successful heights, a union came, but there was one piece missing from Pittman's life. One day, she received heartbreaking news that conceiving wasn't possible. And although they lead extremely busy lives as entrepreneurs, the day came where she experienced the miracle of birthing a little girl.
The Heart of Giving to Grow with Sarita Pittman
She is an incredible force on the scene who helps new coaches and speakers increase their bottom-lines. The seven-figure earner is the founder of the Georgia-based Atiras International Coaching Academy, the world's #1 resource for Life Coaches. According to the website, the academy includes a referral program that has "quarterly incentives, monthly payouts, and promotion bonuses with Maserati giveaways."
This innovative entrepreneur launched the academy as an Accredited Coaching Certification Program, where graduates receive a certification upon completion. It currently has coaches all over the world, including the United States, Europe, the Middle East, and Asia.
Pittman is a philanthropist and giver from the depths of the soul–an auspicious woman helping women build wealth. "I help those from the bottom-up and not burn people from the top down," she points out. This lady wealth builder is authentic, acquainted with a life of miracles, bonafide faith, and an entrepreneur of 20 years.
This article originally appears in the SpeakersMagazine December's issue.