There's nothing worse than coming home day after day thinking "How do you write your first book? I'm not experienced enough to write my first book." It's agitating and frustrating.
You tell your bestie or close friends about the idea. But, there's no motivation to begin because you don't know how to start, and you possibly feel irritation.
What about seeing so many others promote the thought of writing your first book or ebook and how to market it?
This feels even more exhausting because you learn that these promotions focus more on what you need to start and give you little to no places to promote.
Some of you may feel called to write your first book. As if God is saying,"There's a book inside your heart to write."
And, if this is you, lots of convictions like oh my gosh, I've got to do this. But, where do I even begin?
Exhausted from all these emotions about writing your first book, you go plop on the couch and pull out your cell phone.
You check Facebook only to see another ad telling you to click to learn more about how to write your first book.
Talk about confirmation and more conviction simultaneously, right?
Want To Rid Yourself of These Frustrations To Writing A Book? Solved!
I help thousands of writers and authors write their first books. Each of them has different learning styles, to begin with.
These new writers receive editing services and ways to quickly edit their chapters, blogs or content for grammar, consistency, and flow.
As adults, how you learn and understand is key and part of the initial phase for writing your first book. The writers who come to me learn many specifics before they start the writing process. More on this later.
Another way I assist writers and authors is by ghostwriting. Due to contract agreements and confidentiality disclosures, I cannot reveal the author's names. A true ghostwriter understands these rules and ethics.
Many of my clients are first-time book writers. They come to me with the same frustrations like you. But, finish with me feeling accomplished and elated with the end of the writing-a-book journey.
They are hard-working individuals who get up every morning for a nine to five job and make time for writing a book on evenings, nights and weekends.
These incredible aspiring authors write during lunch breaks, rides home on the bus and train, and leave little notes for their book idea all over the place.
To assist them and their busy schedules, I designed a how to write your first book course. It's self-paced and provides the exact writing system to write your first book your fans will love and buy.
There's no need to feel rushed, pressured, frustrated or even struggle through how to start writing anymore. This free course solves all of this! Sign up using the sidebar.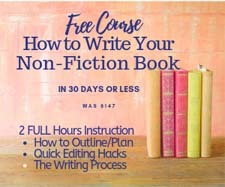 What Does She Know About Writing A Book?
I'm a 20 plus year veteran writer, 10 years certified former English teacher turned business owner and full-time writer.
Obtained my BA in English Writing, M.Ed in Educational Leadership & Administration, M.Div in Theological Studies and will begin my Doctoral studies September of 2018.
I understand "degrees" do not matter to many people in business and writing. However, understanding this part of my background shows more credibility, education on this subject-matter and proper training in writing, editing and research.
For thousands of writers, authors, and business executives, I evaluate, proof-read, provide developmental and line edits to their published essays, a plethora of published books both fiction and non-fiction, poems, articles (with fact check sheets), and blogs.
Here's a brief scenario with one client.
One day a 75, yes 75, years young beautiful and sweet woman reached out to me on my Facebook page. At the time, she had closely observed my various videos and posts on how to write your first book and market it.
I remember like it was yesterday. My followers sent various comments during a LIVE this particular day. I didn't know she watched my Facebook LIVE. You know, when so many watch, it's hard to keep up with who joins and leaves.
My entire LIVE was not aimed to pitch to anyone. I was very intentional about sharing facts about writing your first book and the importance of devising a marketing plan for it.
Roughly 10 minutes into my points of advice, her comment jumps out at me amidst all the others. She adamantly wrote just like this, "I NEED TO WRITE MY BOOK! GOD TOLD ME TO WRITE MY BOOK! WHAT DO I NEED TO DO?"
I sent a response like I always do with my followers and asked her to send me an email. Within minutes, I received her email. Our correspondence led to a free consultation.
As we spoke, I learned about her fears. This project was the first of many. She expressed concerns about not knowing where or how to start.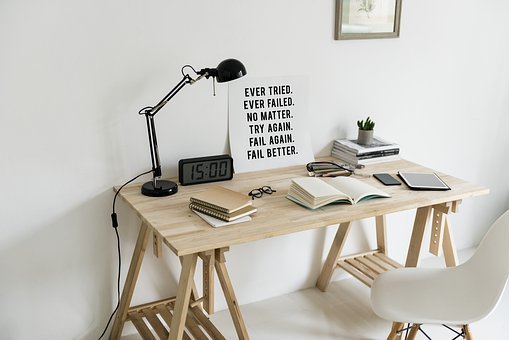 "I've never done this before. I know nothing about writing a book, marketing or anything," she uttered.
At this point, I calmed her down and explained that we'd take a nice pace towards this.
I further explained the process of writing.
We met once per week via Zoom for two hours.
Together we gathered information for her topic and researched on the internet about the topic.
We began the writing process with an introduction, outlined chapters, and she learned how to connect life experiences and the research to each chapter.
She also learned how to dictate her chapters in a recording to have it transcribed with software.
We completed the written portion of her book, edits, book cover and blurb and marketing plan in three months.
She launched her book using the customized marketing strategy I put in place. And, generated over $957.00 for her FIRST BOOK!
People are still purchasing the book! She's now writing her second book and has a big event coming up based on the name of the book.
Wait! It gets even better.
On top of making almost $1k in sales, she just booked a celebrity artist for her event. This means more money and more sales now for two books!
This experience was incredible because many first time books earn much less than this total and end up in the minus bracket due to other expenses.
During our first conversation, I explained to her my objective is to put money in your pocket from writing your first book–not "take" money from you!
Turn On Your Writing Shine! Write Your First Book!
After experiencing such a victorious moment with the 75-year young woman and so many others, I decided to put these same writing tools in a course.
How to write your first book course includes:
1.5 hours of video instruction
View from any electronic device
Replay as much as you need anywhere and everywhere
Self-Paced learning–take your time learning each area
PDF downloads for you to have notes from each lesson
How to brainstorm your book idea
Various ways to connect with your new readers
What's needed in your intro and how to write it
How to write chapters
The importance of hooking your reader
Four different ways to hook your reader
Where to research your topic
How to effectively share and connect parts of your life's story
What point of view to use: 1st person, 2nd person or 3rd person
How to write using details–say more in your chapters
The importance of book titles and how to write them
What Do Others Have To Say About Learning How To Write From Jacqueline
Mrs. Hill worked with Middle School students to support their learning and increase their writing.              She utilized higher order thinking skills in her instruction, and utilized student interest in her lessons.
During my observations, student's were always engaged and eager to learn. Now, she teaches others how to write.
After observing her teaching instruction, I highly recommend this course to the new writer and aspiring author.
Lynelle Lassiter Lyons – Assistant Principal
Mrs. Hill's writing plan helped my son in so many ways. He gained confidence in his writing and excelled in English by taking English 4 before leaving high school.
He's now in college and only needs one year of English to graduate. He applied everything she taught him in all of his subjects.
I thank God for allowing her to touch my son in so many ways. What she brings to the table will change your life. 
Jamiette Hair – Parent
I met Jacqueline through a mutual friend and with a description of what I wanted, she immediately referred me to someone that was qualified to fulfill my editing needs.
And just like that, the baton was passed.  I have been writing poetry for years, originated various greeting cards, completed numerous personalized poetry for individuals, made cd's and a poetry book to name a few. 
As the public welcomed my craft, I felt it was just not enough to satisfy my direction.  I wanted more.
I wanted to meet someone who had the capabilities to help me direct my craft toward excellence by smoothing my rough edges in writing and more importantly, correcting my grammatical errors. Jacqueline did just that.
To my surprise, not only did she work to modify my verse, she also had insight into seeing more than I could have ever imagined.
Rickie Recardo Sumler – Client
My name is Don Bellew, a volunteer at Poly High School in Fort Worth, Texas for the past three years. Our volunteer program was created to help struggling readers improve so they might pass a standardized test.
One of the activities that helped these kids get more involved in reading was to join in small groups and actually write a book each year.
The books were written with the student's input to create a new chapter ready to read each week. We, the volunteers, wrote the new chapter for the students to read aloud.
Jacqueline T. Hill graciously provided her excellent editing service at no cost this past school year 2016/2017.
Her work was 'spot on' and greatly enhanced the finished book. If more people would give their time like Jacqueline, the reading level of many more students could be significantly improved.
The students and volunteers at Poly High owe Jacqueline a big THANK YOU!
Mr. (Willie) Don Bellew, English Educator
Are You Ready For the How To Write Your First Book Course?
This course guarantees to get you started on the new journey towards how to write your first book! And, I'm offering everything to you for $147 FREE!
Did I mention that included in this offer are the areas where to focus writing your book? People buy books based on their interests, of course.
After the catchy book title and attractive cover, your content should also have everything they want and need to read.
So, I want you to have it at this low rate of $47. Once you purchase it, don't hesitate to contact me for comments or questions! I love helping you write your first book!
Sign up using the form on the side bar!